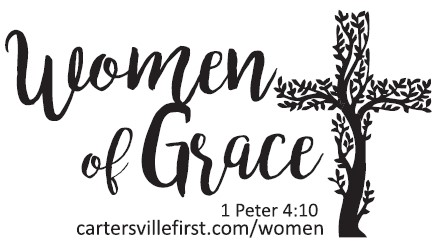 "Each one should use whatever gift she has received to serve others, faithfully administering God's grace in its various forms." 1 Peter 4:10
The Women's Ministry is designed for women of all ages to know that

they are uniquely gifted by God. To support and encourage women in using the gifts God has given them, the Women's Ministry provides ladies with opportunities
to grow deeper in their faith through Bible studies and mentoring
to participate in missions' activities
to gather for fellowship, and
to support women in the various seasons of life.
Like us on Facebook

---
Upcoming Events:
Let us know ...
How has God provided for you during this time?

How has God protected you during this season?

What blessing have you received during this time?

What ministry opportunities have been opened up for you through this time?

What has or is God teaching you through this time?
Send your 3-5 minute video to .
These videos will be shared on the Women's Ministry Facebook page.
---

CLICK HERE for more information and registration. Registration extended through November 24th!
This year we will dine in homes and have the opportunity to fellowship with a surprise group of women. It is a unique and fun way to meet and connect with other ladies.
---
Women's 2020 Fall Bible Studies ONLINE
As a consequence of the current pandemic, our usual Women's Bible Study gatherings will not be occurring. Yet, there are loads of opportunities to meet with women online.
Our church staff is working diligently for Sunday School classes to gather on Wednesdays and Sundays this fall and due to the effects COVID-19 has had in the lives of our Bible Study leaders, there will not be any Women's Bible Studies offered at church or in homes through CFBC this fall.
DO NOT let this keep you from growing in your relationship with God through Bible Study. Many of you are involved in D-Groups in which you are studying God's Word as a part of that small group. Wholeheartedly continue that in-depth growth as a disciple of Christ.
There are a plethora of online studies that the Women's Ministry Discipleship team has explored. The following ministries have doctrinal beliefs similar to our church's and offer a wide variety of studies. Explore the studies they offer and participate in one of their online groups if you are not already involved in a D-Group or some other Bible study.
Our prayer and hope are that when we get a somewhat regular rhythm in place with Sunday School and Worship gatherings at CFBC, that we will be able to work toward a clearer picture of how the Spring semester will look for Women's Bible Studies. We are looking forward to and excited about what is in store for us at that time. God is at work and sees the BIG picture that we cannot. We are thankful that He is Sovereign and not us.
---
Photos of Past Events ...
Ladies Paint Night
Some of our industrious women serving by making masks during COVID-19.