CFBC Reopening Update
UPDATE AUGUST 23, 2020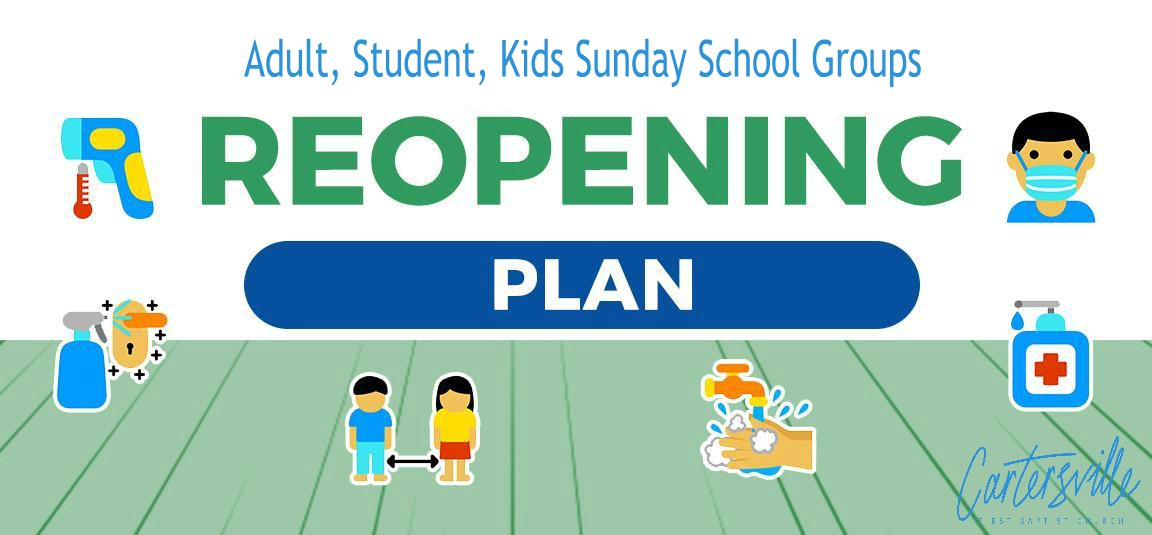 Church family, it has been so good to be back together in person after Covid caused us to be online only for a couple Sundays. I am so excited to let you know that we are ready to take the next steps in our re-open plans. Remember our Discipleship Strategy grow people is to GATHER, GROW, AND GO! We've been GATHERING to worship on Sundays. Now we are ready to get back to GROWING through our Adult, Student, and Kids Sunday School groups. So many of you have been faithful to gather by Zoom, outside, in homes, and other venues. Now we are ready to begin reopening our church campus! Here are the details:

UPDATE | SUNDAY MORNING WORSHIP:
Parents, starting Sunday, September 13th we will be offering childcare for your children ages 0-3 years of age. Space is limited and registration is required.

UPDATE | ADULT SUNDAY SCHOOL:
Adult Sunday School Classes will now be offered on campus on either Sunday morning or Wednesday nights (starting Wednesday, Sept. 9th). Our goal will be for adults with kids to meet on Wednesday nights and for adult classes without kids to meet on Sunday mornings.
UPDATE | STUDENT SUNDAY SCHOOL:
Starting Wednesday, September 9th our students led by Pastor Kyle Clayton will be meeting at 6:30pm in The Loft for fun, fellowship, and Sunday School gatherings!
CLICK HERE
for Student information.

UPDATE | KIDS AND PRESCHOOL SUNDAY SCHOOL:
Parents - We are excited to announce that Wednesday Night Activities for ALL AGE children will be back beginning, Wednesday, September 9, 2020, @ 6:30pm! Due to social distancing guidelines, space is limited and registration is required.
CLICK HERE
for Kids Ministry information.
CLICK HERE
for Preschool information.
UPDATE | DGROUPS:
Our adult DGroups are now able to meet on the church campus. If your group would like to meet on campus, please let Ann Eubanks at know and she will work with you to arrange a workable time and place. Ann can be reached at
. If you are interested in joining or starting a DGroup, Ann will get you started! These groups are focused discipleship to ensure we are disciples who make disciples!
"Here is the WHY"
Why are we doing it this way? -Continuing to social distance within our space/cut down on large crowd gatherings
It's for a SEASON! We will reevaluate over Thanksgiving/Christmas/New Year and hopefully open up wider in 2021
There is a potential for additional services based on volunteers (i.e. we need volunteer help!!!)
---
UPDATE JUNE 14, 2020
Dear Church Family:
We are so excited to be TOGETHER AGAIN for worship! As our Reopen Team has spent hours working on a plan that will allow us to gather safely, we would like to inform you of some things to expect when you return to campus for worship...
Service Times
We will have three services available on campus: Sundays at 9am and 10:45am as well as a "kid-friendly" worship service on Wednesdays at 6:30pm. We will livestream the 10:45am worship service on Sundays (https://cartersvillefirst.com/live/). The services on Sunday will be for all ages and will reflect a normal Sunday worship service. However, the Wednesday service will be a more casual atmosphere with elements geared towards kids. Doors will open 20 minutes before each service.
Service RESERVATIONS
Due to limited seating in our worship center and because of social distancing guidelines, we will need every household to register for the service that you will attend. We ask that you register for only one service so that everyone who would like to attend worship on campus will have the opportunity to attend. Registration will be open at cartersvillefirst.com beginning every Friday at 10:00 am. Once a service fills up online, we ask that you select a different service.
Parking
We ask that everyone park in the main parking lot and enter the building through the doors under the portico. The drive-thru out front will be open if someone needs to be dropped off. For safety reasons, the valet parking service will not be available at this time.
Worship Center Seating
Seating in the Worship Center will be a little different than normal for social distancing purposes. We will have rows set up, but they will be spaced farther apart than usual. We ask that families sit together on a row. If there is already another person or family on a row, please allow 3 to 4 chairs between families on the same row.
Cleaning and Sanitizing
We have increased the number of hand sanitizing stations around the building for your convenience. At the end of each service, we ask that everyone exit the worship center as quickly as possible so that our cleaning crew can begin cleaning and sanitizing the facility for the next service. Wearing masks will be optional.
Giving
We will not be passing the offering plate during our service, but we will have giving stations located at the exits for you to give your offering. Our online giving option is still available (https://cartersvillefirst.com/giving/)
Other
A few things that will not be currently offered on campus are Sunday School classes, activities for kids, and valet parking.
We are so excited to be TOGETHER AGAIN! Of course, if you do not feel comfortable attending in person, or if there are health reasons that cause you to be unable to attend, please join us online for worship. Whether you worship with us on campus or at home, we are blessed to have you worship with us! #lifeatcfbc